Feature film trilogy PLUS episodic TV series (Scroll down page for more info.)
Ancient Greece - a land steeped in myth and legend.The "Mythica" project
is envisaged as three initial feature films and a subsequent TV series.
The initial movie trilogy will tell the stories of :
and

The subsequent TV series (initially 12 x 1 hour episodes) will cover other legends from
ancient Greece, featuring such famous/infamous characters and beings as :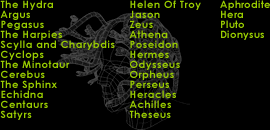 On a project such as Mythica, specialist production assistance is required.
Unizarre have potential use of the facilities and relevant expertise of
several production organisations such as Athens-based Producers
PISSANOS INTERNATIONAL

With proven credentials in the industry, and numerous outstanding titles
to their credit, their involvement will aid greatly in ensuring Mythica's
success.

NB: Unizarre are known for their cultural integrity and will make every effort
to ensure Mythica remains true to the legends that inspired its creation.