With over 25 years experience in the film and television industry both as a successful
International actor (for more, see here) and a respected writer & producer.

David has interests both in UK and USA as well as internationally and is an accredited
member of BAFTA, EQUITY, Writers Guild, and the famed American Academy Players
(home of the 'Oscars'). All are being brought to bear to maximise the potential of Unizarre's
portfolio for future Investors.

His aim (and those of his fellow Directors) is to position Unizarre as a global leader in the
worldwide film and tv production arena.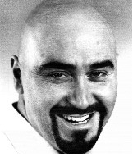 PAUL FLANAGAN
(Vice President)

Original founder of Unizarre. Paul specialises in the Stunts and SFX/Props areas as well as
Crewing, Technical, & Directing. His credits go back over 30 years and with work for BBC,
Granada, ITV and numerous film corporations.
Paul is very much a 'hands on' respected professional in his field and works with a unique
team of individuals to assist in Unizarre being able gain the highest possible quality.